As he stands at the front of a recent Saturday morning breakfast hosted by Christian Community Churches of New Zealand (CCCNZ), an organisation he was part of helping establish just a few short years ago, Stuart Bay's passion is clear. With a sharp business acumen, he loves God, people and has a heart for reaching the lost.
Authentic Magazine sat down with the Trinity Lands chairman to talk about the balance of business and faith and his desire to see young people come to know Christ.
Have you lived in Manawaru all your life?
Yes. Well, most of it has been within about an 8km radius really. I was born and bred in Ngarua. From four years of age, I was raised up under the Kaimais and we attended church at Manawaru. Then I headed off to university in 1970 to do an agricultural science degree. That's actually where I met my wife Beth – then we came home to the family farm in Manawaru, where we still farm today.
Describe what your ideal time spent with family looks like for you…
We've got six lovely grandchildren, all beautiful kids. They come up to the beach with us and we have a wonderful time. It's a lot of fun. In the evenings we have devotional times with them, those are very special.
The intersection of business and farming kind of runs in the family doesn't it?
Definitely. In 1971 my dad, David, was on the New Zealand Dairy Board and very heavily involved in industry affairs. We developed a family partnership with my parents and my siblings – the objective being to get each family member onto their own economic unit. My siblings went off in the world to further their careers and Beth and I assumed the responsibility of running their properties and ours.
So, Beth and yourself obviously make a good team then?
Yes indeed! Being a maths teacher, Beth was able to run all the farming accounts and rear the calves and we worked really well together. Actually, during our more hands-on farming days, Beth and I won the 1987 Dairy Farmer of the Year (DFOTY) competition. From there, by God's grace, others noticed our farming skills I suppose.
Prior to and after that win, we used to have a lot of on-farm visitors and we would talk a lot about the dairy industry "breeding index". The magic formula was high breeding index cows with high breeding index pastures, combined with high breeding index management. Put simply though, in whatever you do, it's just about using your God-given talents for His glory.
You've also held a myriad of other governance roles in the business world too. How did you begin stepping into that realm?
Well, when others began to notice our farming skills it led to those invitations to be on trusts and in governance roles, and in a way those roles took us outside the farm gate.
I was elected to be a farmer representative on Livestock Improvement (LIC) in 1988, the year after we won the Dairy Farmer of the Year competition, and then onto the New Zealand Dairy Group Co-operative board the following year in 1989. I was with the dairy company until the formation of Fonterra in 2001 and came off the board at that time.
I also spent 24 years on the LIC board – eight as deputy chairman and eight as chairman. They were busy jobs representing fellow farmers.
In addition, I was also involved with several companies – AFFCO New Zealand, TrustBank Waikato, among others.
Those are well-known, large scale companies you've mentioned. What is it like being a Christian in those work environments?
Well, here's an example from my experience. I grew up without partaking in alcohol – that continued during my business days with the dairy company. We also raised our children in an alcohol-free home. So in the work environment, or at work functions, people would see straight away that I was drinking something different instead, which opened up opportunities for conversations.
I became known for who I was as a Christian. My father was the 'grace-sayer' at work events, so I took over that role at dairy company functions and events. But that's overt – that's easy. Many times though I had guys apologise for swearing in front of me, but it wasn't me convicting them, it was the Holy Spirit.
There were situations in which I could stand strongly for my Biblical beliefs, while being firm with a bit of backbone, but with grace. Simply put, God will use you because you're there – if you are prepared to be used and show honesty and integrity in working with and serving others.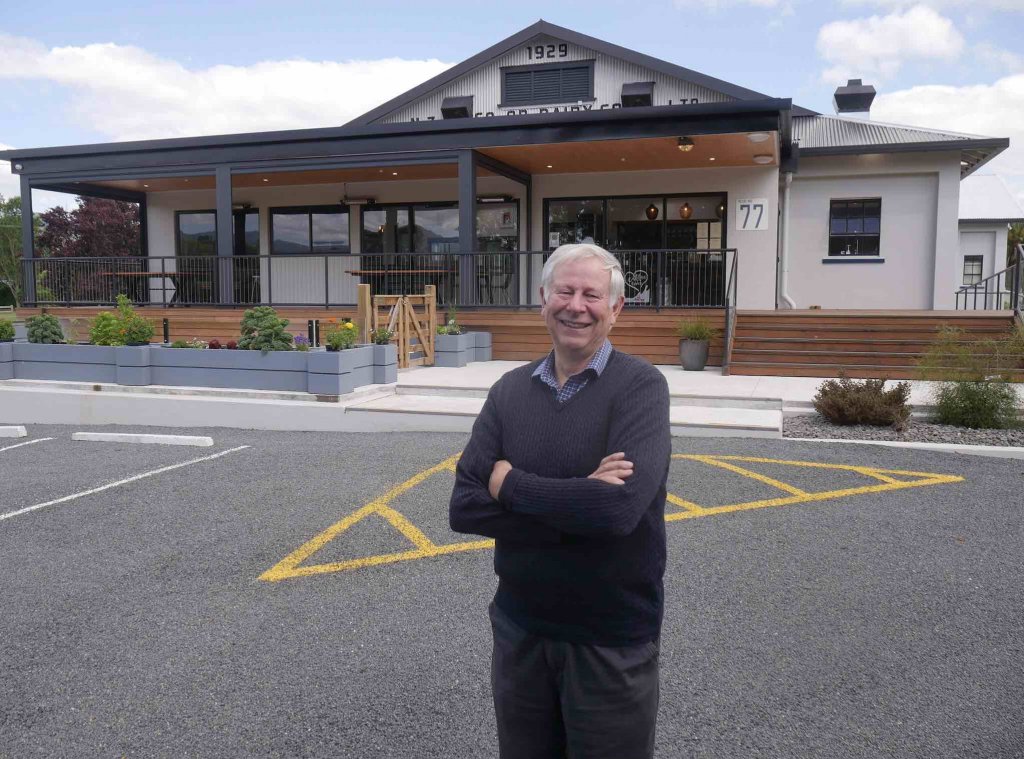 You're in the unique position of being involved with all three of the trusts which came together to form Trinity Lands – which now blesses so many Christian organisations and initiatives in New Zealand. Can you talk us through that formation process and the work Trinity Lands does?
Trinity lands is owned by three charitable trusts which were started by Waikato dairy farmers in the 1950s and 60s. They wanted to use their collective farming and business acumen to fund Christian community work. Those trusts are Hillview Trust, where I'm the current chairman, Lichfield Lands Inc and Longview Trust. I'd grown up with Hillview Trust, as dad was one of the founding trustees from our local church.
My father, who also was involved in all three organisations, saw the merger but passed away in 2015. I then became the only one who was still on all three trusts. In terms of the formation of Trinity Lands, because I'd been involved in lots of industry companies as I mentioned, I'd seen the process of mergers and so on and it made me think of the trusts and ask myself "could we combine our resources as trustees and go even faster, harder and smarter?". Each individual trust owned land and other assets and it took two or three years to get the groups unanimous agreement to bring our businesses together, but then once we got going it just took off. Trinity Lands officially began in 2011. I was the inaugural chairman and currently still have that responsibility. Back then, there was about $100 million in assets across Hillview Trust, Lichfield Lands and Longview Trust combined. Now, through God's grace, there's about $500 million. Trinity Lands has grown as a charitable company to become a major player in New Zealand agriculture and horticulture. Through its work, the company is able to give many hundreds of thousands of dollars to a wide variety of community organisations every year. We recently donated a new ambulance to St John Te Puke for example. Substantial dividends are paid annually to the shareholder trusts to distribute to their own beneficiaries.
The whole reason we are here is to grow the Kingdom of God and share the Gospel. We want to see more and more people learn in different and creative ways. Each of the trusts has different ways in which they do that and we've got different segments of society that we're working across – from academia and Christian colleges right through to youth work and Christian camps, sporting endeavours and the music industry. As another example, this also includes Chaplains – they are in high demand across all segments of society.
In amongst everything that makes life busy, how do you keep the balance right?
I suppose I've never really kept time. I'm not very good at that balance to be honest. The people closest to you are the ones who often have to give the most. But then again, maybe they're also the most forgiving.
Talk to us about your involvement with CCCNZ…
Just a few years ago I helped with the formation of that organisation. It's called Christian Community Churches of New Zealand in full, it's a movement of independent local churches and the regional camps and national ministries that support them. One of the prime drivers of getting that going was praying about seeing if the Lord, to use digital terminology, would help to 'reboot' a movement that was seen by many as struggling. We studied the Australian example and long story short, what the Lord is doing here in New Zealand now is so amazing.
With His leading, we've tried to strengthen our whole movement – up until the 1960s, it was a powerhouse in New Zealand as an evangelical witness. There were about 200 churches in the network by the late 1960s. Actually, about 24 camps in the CCCNZ movement were set up during this era we're talking about.
You have a real passion for Christian camping don't you?
Yes, I really do. It's something that's always been in my blood and close to my heart because all of our holidays as kids were just that – going to Christian camps. My Dad helped establish both Totara Springs Christian Centre and Kauaeranga Valley Christian Camp. I was both chairman and on the board of Kauaeranga Valley for quite a while.
Beth and I are in leadership at our church – Manawaru Bible Chapel – and as a church, we have members on the boards of both of those camps. I believe that if you don't have a church linked in with a camp, children are missing out in so many ways. Camps essentially develop kids as leaders – it broadens a whole range of skill sets too. When I was young, I didn't particularly enjoy our only family holidays being my parents taking me away to those camps at that time in my life – but I look back now and can see how cool it actually was.
In those few short years, we now have about 70 churches as part of CCCNZ. About 300,000 Kiwi kids go through the 64 Christian camps in New Zealand every year. By comparison, I believe about 16,000 or so belong to Scouts.
Can you tell me about your journey of learning to speak Te Reo Māori?
During my time with the dairy company, there were occasions when I'd be asked to say a karakia, or prayer. I began to think to myself, I've got to do this better – I've got to know the names of our people and place names in Māori, pronounce them properly and do them justice.
I wanted to connect with our Māori staff and our Māori farmers who were shareholders. Then, when I gave speeches, I wanted to use some Te Reo to share whakataukī, or Māori proverbs. So many of them are biblical. Being able to speak Te Reo just provides another point of connection with people – and to me that's what it's all about.
So, with that in mind I studied a three-year certificate in Te Reo at night school in Paeroa. As I drove to work every morning I would play tapes over and over. At our graduation ceremony on the marae at Huntly, out of a couple of hundred graduates, they asked me to speak. It was an extraordinary privilege.
I was also very honoured to be gifted a Piu Piu, or flax garment, befitting a Rangatira, or chief, when I retired from LIC.
It sounds like you have a bit of a passion for languages?
I do. I was in my 50s when I began my Te Reo journey, and I also set myself a goal to try to learn to communicate in Spanish. I'm in my late 60s now. Oh and between finishing University and coming home to the farm, Beth and I studied at a Bible College and I also learned a little bit of Greek. So, there's a challenge for you too actually – in your 50s learn some new languages!
Okay then, any advice for other Christian men, either in the business world or otherwise?
Put your heart and life into following the Lord and He will direct your path, there's no doubt about that. And save. Learn the time value of money, save it and make money work for you. Then overtime, money becomes another tool you can use to help you achieve things in the long term.
Men who are busy and useful are those who were trained to be that way from a young age.
I think it comes down to intentionality around families – and churches in our case – raising children. There's a saying "it takes a village to raise a child". Well, if you can involve a church family in that process of intentional discipleship of children, I believe they will be even better off.
A scripture verse and principle I learnt as a young kid is found in Proverbs 27:17 – "…iron sharpens iron…" In our Christian walks, if we're going to be sharp, we need to find some iron. Find somebody like a mentor and then you'll help sharpen each other. If you're working with rocks every day and you're an axe, you're going to get blunt. Leaders should not be out on their own all the time giving and giving and giving – they also have to regularly go to the well to fill up – part of that is going to God's Word, yes, but another dynamic is being fed spiritually by other people who are going to sharpen you.
You're well known as a person who – if you're going to do something – does it really well. How do you go about bringing the things God has laid on your heart to fruition?
I am a details person, I must admit. I have high standards of excellence in mind too. I guess it's a strong work ethic of excellence and doing things well. I've grown up – even from a young kid – knowing Ecclesiastes 9:10 – "whatever your hand finds to do, do it with all your might." My father used to remind me of that verse.
On that note, Hillview Trust's Community View project in Manawaru is a great example of that. Tell us a little bit about your heart for Manawaru and the idea behind the project…
Well, of course it has been teamwork, but Community View is essentially a community hub which is the vision of Hillview Trust and is based right in the heart of Manawaru, on the old dairy factory site. The original dairy factory burnt down in 1929 and was re-built the same year. In recent times it was an eyesore, the front of the site was boarded up for 40 years.
The Community View project has been underway for about three years and the vision is to see the community facility again functioning as a hub, just like the dairy factory was in its day. Among other elements, the facility includes Cafe 77 at its heart, an events centre with an inspiring rock climbing wall for kids, a function centre and a motorhome park, plus electric vehicle charging – that area is specifically designed to encourage people to come and stay.
Then, also as part of us, there is a heritage centre. Everything here is here by design – to create a sense of community right in the heart of a village we love. We've tried to think of including everything that brings people here and gives them a sense of ownership. We have a huge vision for our village, which is still growing. Looking back actually, December 17 last year was our miracle day. We saw the Lord move mightily and several key things which we were waiting on happened all on that same day. Right from the start, we've seen the Lord's hand over this project in so many ways, it's extraordinary.
Want more articles like this?
Read More Interesting articles
I can't quite remember what my two-year-old daughter said the first time she parroted me, but I do remember how…
Read More...