In Matthew, there is an account of a meeting between a centurion and Christ.
"And when Jesus was entered into Capernaum, there came unto him a centurion, beseeching him, And saying, Lord, my servant lieth at home sick of the palsy, grievously tormented. And Jesus saith unto him, I will come and heal him. The centurion answered and said, Lord, I am not worthy that thou shouldest come under my roof: but speak the word only, and my servant shall be healed.
"For I am a man under authority, having soldiers under me: and I say to this man, Go, and he goeth; and to another, Come, and he cometh; and to my servant, Do this, and he doeth it. When Jesus heard it, he marvelled, and said to them that followed, Verily I say unto you, I have not found so great faith, no, not in Israel." – Matthew 8:5-10 (KJV).
All miracles were to demonstrate that Christ was the Messiah and that He had all power and all authority. This was, particularly, to Israel – God's chosen people – but also to all who would believe.
We must remember that Israel was under Roman occupation and they were hated by the Jews, so this is a very unusual event.

For a Roman to ask anything of a Jew was strange, as they were the conquerors and rulers and the Centurion could have commanded Jesus to com – and even sent soldiers and compelled him to come.
But, that is not what we see here. We see the centurion beseeching him, pleading with him, obviously upset and very caring of his servant. He pleads.
Look at verse six.
"And saying, Lord, my servant lieth at home sick of the palsy, grievously tormented."
Palsy is a horrible disease that causes paralysis, uncontrollable shaking or trembling and seizures. Often in Jesus' day, it led to death. There was no cure.
Spiritually, most Romans were either unbelieving, or they worshipped a 'god' of choice.
These included Venus, Aphrodite, Juno, Pluto, Neptune and so on. Rome was a proud nation that had conquered the world with an army that was the most disciplined and well trained fighting force in the history of the world.
A centurion commanded a significant force of men. Usually between 60 and 80 regular soldiers, and then mercenaries.
But, in some cases, they could command cohorts of up to 200 men. They often held higher office in the army structure. Yet, here we see the centurion acknowledge that spiritually he is not worthy to receive Christ.
However, he recognises Christ and His authority.
Here was a believer. Because the Centurion recognised Christ's power and authority, he also recognised who Jesus was – the son of God.
As we read, he simply said, "…I am not worthy…"

He was a self-confessed sinner recognising his position before the sinless one.
The centurion not only recognised Christ's authority, but also recognised Christ's power.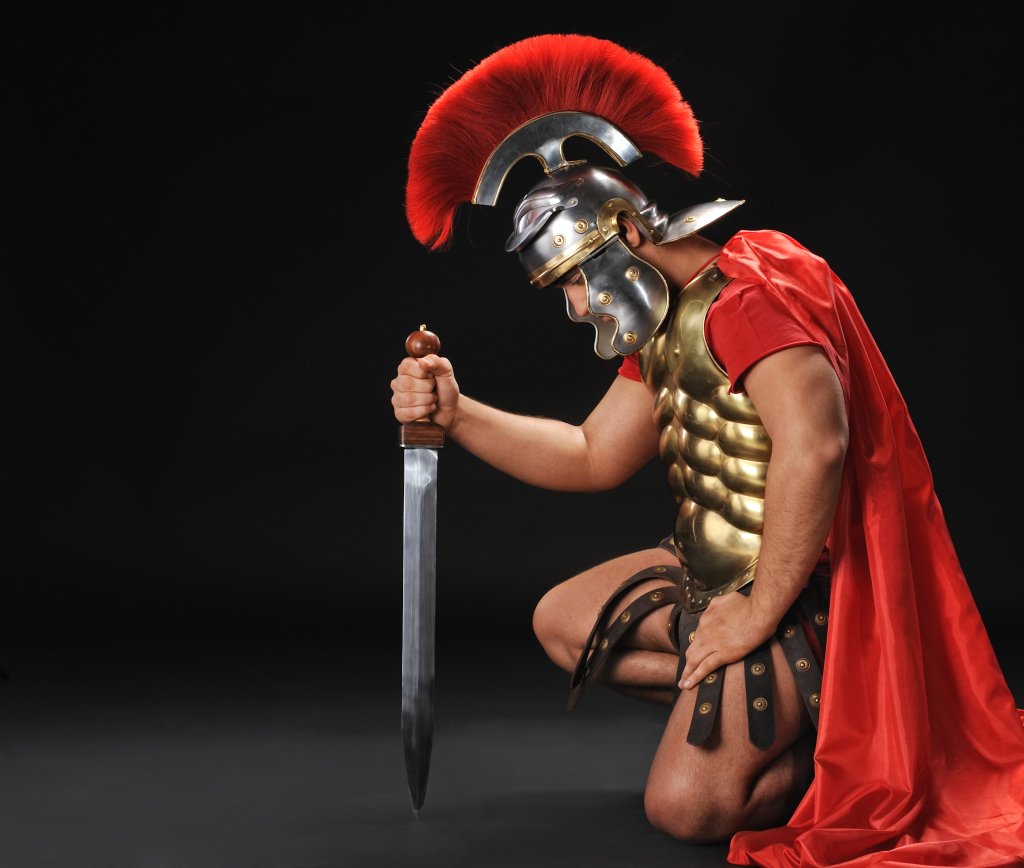 "Speak the word, he said, and I know it will be done".
Here was a man who needed God to hear and to intervene. Here was a man who recognised he had no right to blessing but pleaded not for himself, but for his servant.
He recognised Jesus' relationship to God the Father. I am reminded of this passage in John.

"For as the Father hath life in himself; so hath he given to the Son to have life in himself; And hath given him authority to execute judgment also, because he is the Son of man." – John 5:26-27 (KJV).
Christ knew the heart of the man and could not help but compare his attitude with the attitude of his own people. Here was a Roman who accepted who Christ was, and worshipped him.
Here in a nation that rejected its own messiah. Christ speaks of those who are not Jews but will recognise who Christ is and worship him as the Roman has.

Israel will continue to reject Christ. Not only then but through all time until Christ's return to
establish His kingdom.

The Jews will claim their inheritance will save them, but it is not your heritage that saves, or your family that saves, or your country that saves – but your faith in Christ that saves.

The centurion believed, recognising Christ's power and authority.

"And Jesus said unto the centurion, Go thy way; and as thou hast believed, so be it done unto thee. And his servant was healed in the selfsame hour." – Matthew 8:13 (KJV).
As we look at this passage of scripture, it is more about recognising Christ and who He is than it is about the servant.
It is about the centurion's faith. Notice Christ's words very carefully. "..as
thou hast believed…"
The man believed Jesus was who he said he was and his faith was rewarded.
So it is with us. We must accept who Christ is. That He has all power and all authority.

"For God sent not his Son into the world to condemn the world; but that the world through him might be saved. He that believeth on him is not condemned: but he that believeth not is condemned already, because he hath not believed in the name of the only begotten Son of God." – John 3:17-18 (KJV).
The Centurion believed.

"That if thou shalt confess with thy mouth the Lord Jesus, and shalt believe in thine heart that God hath raised him from the dead, thou shalt be saved. For with the heart man believeth unto righteousness; and with the mouth confession is made unto salvation." – Romans 10:9-10 (KJV).

So must we.
Barrie Hanson lives in Bluff, Southland. He has been a Christian for over 40 years and in that time he has been a preacher, Pastor and a church helper in both Auckland and Hamilton.
Want more articles like this?
Read More Interesting articles
"Deregistered, but not defeated." Four words immediately on Bob McCoskrie's lips as a nearly $750,000, decade-long, four-court case journey came…
Read More...