As Christians, we are not called to 'do' church, we are called to 'be' the church. Jeremy Smith talks to three examples of men's groups around New Zealand that have found unique and creative ways to meet in men's group settings. Shared passions bring them together as they aim to be salt and light in the spheres of influence God has placed them in…
Real Life Racing, Mahurangi (Warkworth)
Steve Pound, co-ordinator
"A $1000 car doing nearly 200 kilometres an hour is pretty entertaining really." When Steve Pound returned home to New Zealand after a season spent overseas on the mission field, he felt it was important to look for ways to build new friendships with other Christians.
Then came an idea he says God laid on his heart. With more than 15 years experience racing rally cars, maybe his passion for cars, motors and racing could help him do that? Fast forward nearly four years to 2021 and the Real Life Racing group is well and truly on the road.
Mostly made up of a bunch of guys from the Mahurangi, or Warkworth, area, the group meets every Tuesday. Each week, up to 20 guys and their kids come along – both Christians and non-Christians and those who attend church and those who don't.
"We essentially build 'lemons' cars – cars we buy for no more than $1000 and then build into race cars," Steve said. "We add safety features including a roll cage and race seat. You'd be amazed at the conversations that happen underneath a car. It's men connecting and growing in Christ in the light of a shared passion."
Following each Tuesday build session, the guys talk about life and somebody gives a word and prays. Once or twice a year too, a bunch of the guys – their wives and families included – head to either Hampton Downs Motorsport Park, or Taupo's Bruce McLaren Motorsport Park in Taupo.
There – with some of the cars they have done up – they compete in 24-hour circuit racing events. Five drivers split the task into two-hour driving stints.
"I love those," Steve said. "The first year we went it was so cute seeing dads with their race overalls, helmets and safety gear on and hearing their young kids proudly saying 'my dad's a race car driver'".
Steve said the work God is doing in the guy's lives makes continuing the group worthwhile. The Real Life Racing model is one other guys are investigating establishing in other parts of New Zealand. Both Hamilton and Taranaki are on the radar so far.
"What God is doing is amazing. In our case, working on cars together is a really good way for guys to connect.That leads to other conversations and social connections and creates great friendships. "I think lots of modern guys are pretty busy and they almost, to some extent, keep each other at arm's length a bit. This is one way we can change that."
Guys contribute $10 each week, with the rest of the finances coming in the form of people donating cars which are then done up and sold, or stripped down for parts.
Dirt Church, Waikato
Marty Richards, co-ordinator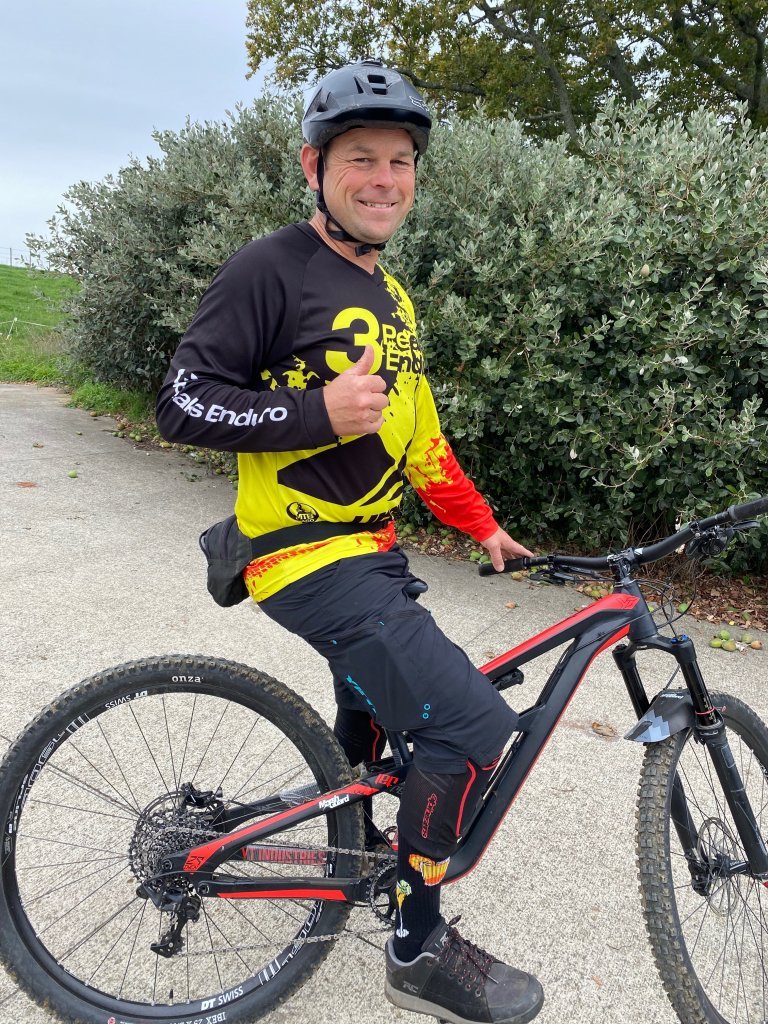 When Marty Richards heard a message about bringing your God-given dreams and ideas to life – not just putting them in the 'too hard' basket – one of his passions immediately came to mind.
"I'd been thinking of it for a while, and then earlier this year we got the wheels rolling."
That idea was what is now known as Dirt Church – a group of guys who regularly get together to ride mountain bikes.
Marty enlisted the help of Capernwray Adventure Bible School's James Bruce – from whom guys could hire bikes to ride – and they were off.
Held mostly at Te Miro Mountain Bike Park, the ride nights have so far attracted up to 60 guys.
"In the warmer months we've been holding them every fortnight – but since daylight savings and winter – we've been riding monthly on Sundays.
Guys have been coming from all over the Waikato and further afield too – including Hamilton, Cambridge, Matamata and Tauranga – to ride with the group.
"We ride for an hour or two, we have a barbecue together, then we have a short talk and encouragement at the end."
More than anything, Marty says, Dirt Church is proving to be a great way to be a positive influence – and introduce Jesus – in a natural and relatable way.
"On some nights, up to half the guys who come along don't yet have a relationship with Jesus. I'm being pretty open and authentic about the fact that we are a Christian men's mountain biking group – and also about the fact that we share the Gospel.
"People are becoming more and more open to the Lord and we're really praying for a lot of them. God will reach them – I just know it."
Some uplifting and encouraging conversations happen naturally too, just in the process of getting together to ride.
"We don't do awkward things like introducing ourselves – people just start talking to each other and get to know other guys that way."
A big topic that Marty believes is of huge importance is that of men's mental health – and it has been brought up regularly.
"It's my opinion that the Church could do more in that area. Men need to talk more about that amongst themselves too. The Church does really well with things like women's groups, Bible study groups and so on, but I do feel there's more that could be done to reach out to and connect with men."
Marty said using a skillset or something you are passionate about as a tool to reach people for Jesus means you can be "excited and impactful" for His Kingdom.
Great friendships are being made too.
"Since the start of Dirt Church, I've really connected with one of the guys in particular, and now we surf every Monday."
Plans may also be afoot to expand Dirt Church into other areas of New Zealand in the future – and even the possibility of holding a national Dirt Church get together at Keswick Christian Camp in Rotorua is on the radar.
For now, this month's (June) get together is a ride in Rotorua and as the weather gets warmer and daylight saving rolls around, the rides will happen more often.
"Last year in summer we rode together every fortnight, but I think from later on this year we'll hold the rides every week – my wife said that was okay!"
Online E-Group, Nationwide

Rodney Read, group member

"Well, originally we didn't know how long it would last, we were just trying something and leaving it with God."
A format of gathering together which came to the fore for most last year in lockdown has actually been a tried and true way of meeting for far longer for this men's group.
For the past six years, a group of guys from all over New Zealand have been meeting online on Zoom early every Wednesday morning.
Nine guys now make up the group – one of the earliest being Christchurch's Rodney Read.
The initial idea for the group first came about when Promise Keepers' national director Paul Monahan started mentoring Rodney through Skype meetings.
The concept grew from there – with all nine members also helping run men's ministries of some form in their respective churches.
Rodney – who by the way has subscribed to Authentic since issue two – is delighted to have such a forum in which to meet.
"Yes, it's such good fellowship – I have to say, I really love the opportunity to stay connected in this way.
"At the start, we were just trying something new with a group of half a dozen guys. The really cool thing is that not only have we now grown in size overall, but all but one of the original six guys are still part of the group, even all these years later."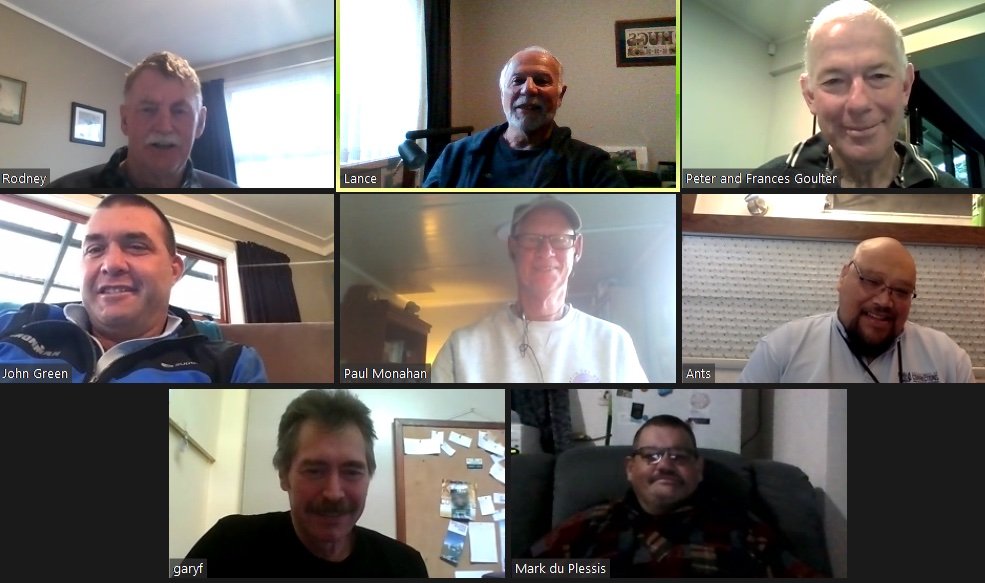 Rodney said each of the guys are at different ages, stages and experiences in life when it comes to their faith.
"And actually I love that – because that's really helped me in my own walk with Jesus. I have really grown. It's just so neat."
Each week, the responsibility of facilitating the gathering is shared amongst the members and the beauty of technology is that if they ever wanted a guest speaker – even one from overseas – it could easily be accommodated.
In the early stages, by way of discussion topics, the group first began working through Promise Keepers material.
"And actually a lot of what we talk about these days has to do with the things happening in group member's lives and what we face as men walking out our Christian journeys. I love that in this way we are in it together," Rodney said.
Opportunities to meet other group members in person have also arisen over time.
"I remember at one stage I was the only one who lived in the South Island," Rodney said.
"And so I'd met some of the guys from the group who lived in Auckland, but not in other areas of New Zealand.
"When we first had the opportunity to meet in person it was in Wellington and it was such a worthwhile experience getting to meet everyone.
"We had really good feedback from doing that and having the opportunity to actually put a face to everyone's name."
With so much technology at our disposal in this day and age, Rodney is delighted to be able to use Zoom in the context of a group like this which is running for God's Kingdom.
Additionally, if you have a specific area of interest and you would like to find out if there are any like-minded men's ministry groups around the country, email jeremy@authentic.org.nz for more information.
Jeremy Smith is editor of, and one of the writers for, Authentic Magazine.
Want more articles like this?
Read More Interesting articles
In a day when many Christians are re-evaluating church attendance, are there values that might anchor us in holding fast…
Read More...