Before Wynton Rufer was even 10 years old, he had a goal – to juggle a football 500 times without dropping it.
When he achieved that, he simply doubled the aspiration to 1000 times.
By 14, the former All White striker – with 23 full international appearances to his name – had come up with a creative way to fill his daily two kilometre morning walk from his home in Miramar, Wellington to school at Rongotai College.
He wanted to juggle the ball non-stop for the entirety of the journey.
"Every time I dropped the ball, I obviously had to wait until after school or even the next day before I could try it again. There were three or four roads I had to cross, so I would juggle the ball up and catch it on my neck, look left and right and then cross the road.
"There was a tunnel under Wellington International Airport and I had to do the same thing there – because half the lights were broken and there were patches where I couldn't see.
"It took me about three months to achieve the goal and I was so determined to do it that the possibility of failing to do so didn't even exist for me."
It's a glimpse into the psyche and dedication of New Zealand's most successful professional footballer. His now storied career – with overall stats of 224 goals in 539 games and eight trophies – has its roots at least in part in those disciplines.
They helped set the Oceania Footballer of the Century on a more than two decade footballing journey which included being part of the All Whites' inaugural 1982 World Cup campaign in Spain, playing European club football in Switzerland and Germany and a stint in Japan before following God's leading to return home to New Zealand.
Wynton's career brought with it a multitude of awards. On home shores, he was inducted into the New Zealand Sports Hall of Fame in 2005 and the Māori Sports Hall of Fame two years later.
Ultimately though – and he says most importantly – his love of the beautiful game set him on a path to finding faith in Jesus.
He spoke to Jeremy Smith.
Can you remember how you were first introduced to football?
My dad – Arthur – was Swiss and he was interested in soccer, as it was called then. Dad was a perfectionist, you know, nothing was ever good enough and he would always be onto us about being the best we could be. I remember a childhood full of Saturday morning sports. Both he and my mum, Anne, who was Māori, were really supportive of our love of sports actually because they ultimately knew it was keeping us occupied in a positive way. Team sport is just fantastic in the sense that it teaches you life skills that you can then use later on in life. It has to be said that both my siblings – my older brother Shane and my older sister Donna – were really talented. Shane was an incredible athlete, and not just in football. He played for the All Whites as well, but also represented New Zealand in softball and volleyball. Donna was a fantastic squash player. I think growing up in that sort of family environment was a big factor in me discovering my love of football early on.
In the early days, what football players were you most influenced by?
I was totally inspired by Brazilian footballer Pelé – I dreamt of being just like him. As I developed in my career – at Rongotai College, and then after school at Wellington Diamond United, Stop Out and the Miramar Rangers – I started trying to play my football like him. There's a famous photo of Pelé when he scored in the 1970 FIFA World Cup in Mexico. He jumped up and punched the air. So, when I scored goals I started doing the Pelé jumps too!
Actually, if we can, let's fast forward to about 20 years ago and the time I got to meet Pelé in person because that's a funny story. At the World Cup in Spain for the All Whites – he came into the changing room before our game against Brazil. I was out on the pitch taking photos like a tourist because I was so excited about the game against my heroes that I missed out on meeting my idol!
When I did finally meet him, I was in Zurich at a FIFA committee meeting in 1997 or 98. He was the last one to come into our meeting room and was such a gentleman – going around to every single person to say hello. When he finally came to me, he looked at me and said "It's nice to see you again." It was his polite manner, because obviously he can't remember everyone he has ever met. "I haven't met you before" was my pathetic reply, "well, now we know each other," he said with a big smile. No wonder he's the greatest!
It didn't take long for football-related opportunities to present themselves did it? I read that you were the first Kiwi to be offered a contract with Norwich City Football Club – while at the same time attracting the attention of the All Whites?
That's right. In 1981, my brother Shane and I both trialled at Norwich City in England and I did get offered a professional contract but I wasn't able to sign because of passport and work permit dramas. It was disappointing, but at the same time other doors were opening for me and I got called up to the All Whites.
New Zealand was in the midst of trying to qualify for the 1982 football World Cup and I entered the campaign for the last few games – they were crucial must win fixtures. The first World Cup qualifier I played in was against Kuwait in late 1981, I was 18. We drew that game 2 all and I scored. I ended up scoring four goals in the three games I played – against Kuwait, Saudi Arabia and People's Republic of China. I was just glad that I could help the team with our overall goal of qualifying for Spain. While I was on that qualifying journey with the All Whites, I attracted the attention of international clubs. Switzerland wasn't in the 1982 World Cup, but clubs over there had obviously heard about the boy from New Zealand who had a Swiss connection. I signed my first professional contract with FC Zürich while in New Zealand, just before the 1982 World Cup started.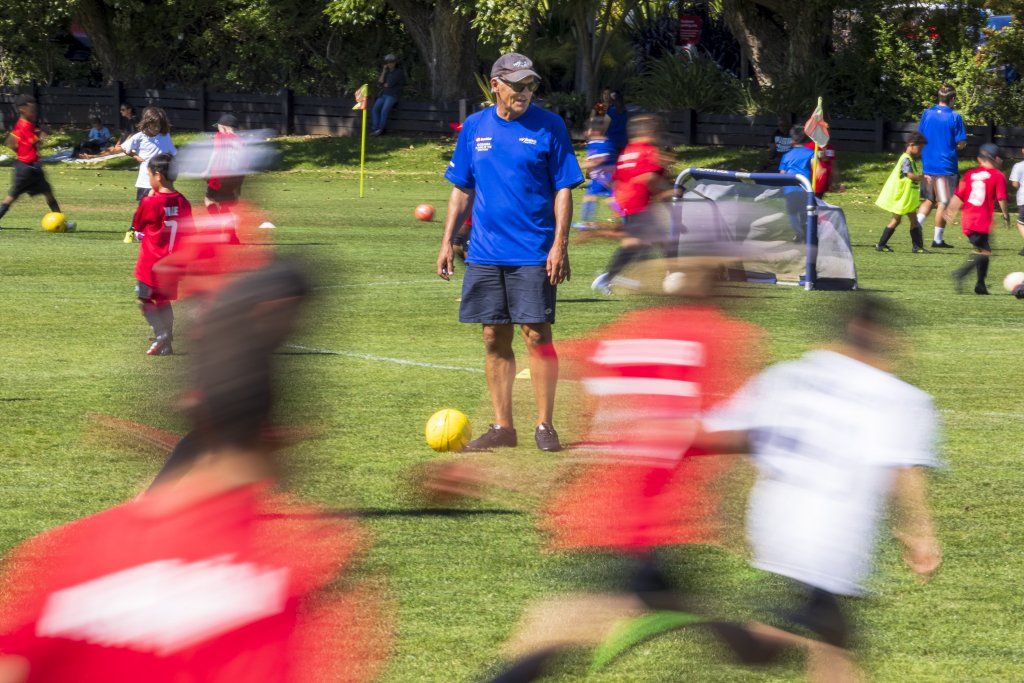 Only a select few New Zealand footballers can say they're lucky enough to have played on football's largest stage. How do you even begin to describe your experience?
Oh, it was unbelievable, but being so young I think perhaps I didn't fully understand it all. But wow was I living the dream. We got drawn in what they called the 'Group of Death' and played Scotland, the USSR and Brazil. You know, even just the opportunity to play a team like Brazil, who were the heavy weights of world football, was just a real buzz for me. That 1982 Brazilian side was one of the greatest teams in the history of the game which didn't win a World Cup. With players like their captain Sócrates, Zico, Éder, Falcão, Junior and so many others, it was just a phenomenal team. It was a dream come true for me just to be on the field.
On the note of World Cups, Ricki Herbert, who was one of your All Whites team mates at the 1982 cup, was coach when the national team made its only other World Cup appearance – in South Africa in 2010. It must have been so special watching that unfold?
For sure it was. As you know, players like Chris Wood were there and I'd coached him as a kid, so to see him go to the World Cup in South Africa was just brilliant.
After the '82 cup campaign, you headed to Switzerland. It was there you became a Christian, some would say right as your international club career took off. How did you come to faith in Jesus?
In Switzerland I started at FC Zürich and I was required to complete a period of time of service in the Swiss military as I was playing on a Swiss passport. I met another soldier in the military who was from the Salvation Army and he led me to Jesus. it was just incredible. Up to that point in my football career, I had rubbed shoulders with and even played alongside a few other Christians before.
But thanks to Beat Rieder, who is still serving the Lord today in the Ukraine, I began the greatest journey of my life and started to follow Jesus. I began reading the Bible and telling others how much they needed Jesus.
When I became a Christian in 1986 and was born again, I began to notice a whole lot of changes in myself and who I was as a person. Galatians 5:22 is a scripture which comes straight to mind – and the fruits of the Spirit, which are love, joy, peace, patience, kindness, goodness, faithfulness, humility and self-control. As I began to walk with Jesus I knew I was finally on the true path of life.
A month later I got married to my wife Lisa. One one occasion, we were in a Pentecostal church in Perth, Western Australia, where she is from. As part of the service they asked if anybody wanted to give their heart to Jesus and she went forward and gave her life to the Lord. That was so special. We have two sons – Caleb and Joshua – and both of them were born overseas – in Bremen, Germany and Tokyo, Japan during the course of my playing career.
Once you became a Christian what did you do to ensure you kept close to Jesus? Was it hard being a Christian in a competitive sporting environment?
Not really. But I do think it's vitally important that you find a good church home and get involved with things like a weekly Bible study or make friends with other Christians. When I was playing, I was quite fortunate to be able to go to Bible study with a group of other Christians. It was always challenging to get to church because we played games on Sundays and there was lots of travel involved. But even in regards to our individual walk with the Lord, I think it's important to have other Christian friends around who can encourage and support us, because this automatically builds accountability. I've been blessed to be surrounded by such people.
Let's jump to your shift to Germany and playing for Werder Bremen in the Bundesliga – the top tier of German football. That was a stunning time of success on the playing front for you wasn't it?
From a personal point of view, signing with a top German side was a dream come true.
The big five leagues in European football were in France, Germany, England, Spain, and Italy. That hasn't changed today.
The team I played for at Werder Bremen won six major titles during my time there.
We were German champions, Cup winners twice, and the crowning glory was European success in the UEFA Cup Winners' Cup final against AS Monaco in Lisbon, Portugal in May 1992. I assisted with the first goal and scored the second in our 2-0 win. I was also the UEFA Champions League top scorer in the 1993/94 season.
My coach at Werder Bremen – Otto Rehhagel – became a world famous coach and I just connected with him like a father son relationship and we just had the most incredible success in the club's history during my time there – which was from 1989-1995.
I have other amazing stories, like when I scored in both games against Diego Maradona's Napoli club team to knock them out of the European Cup. All told, I have to say, it was just an unbelievable time.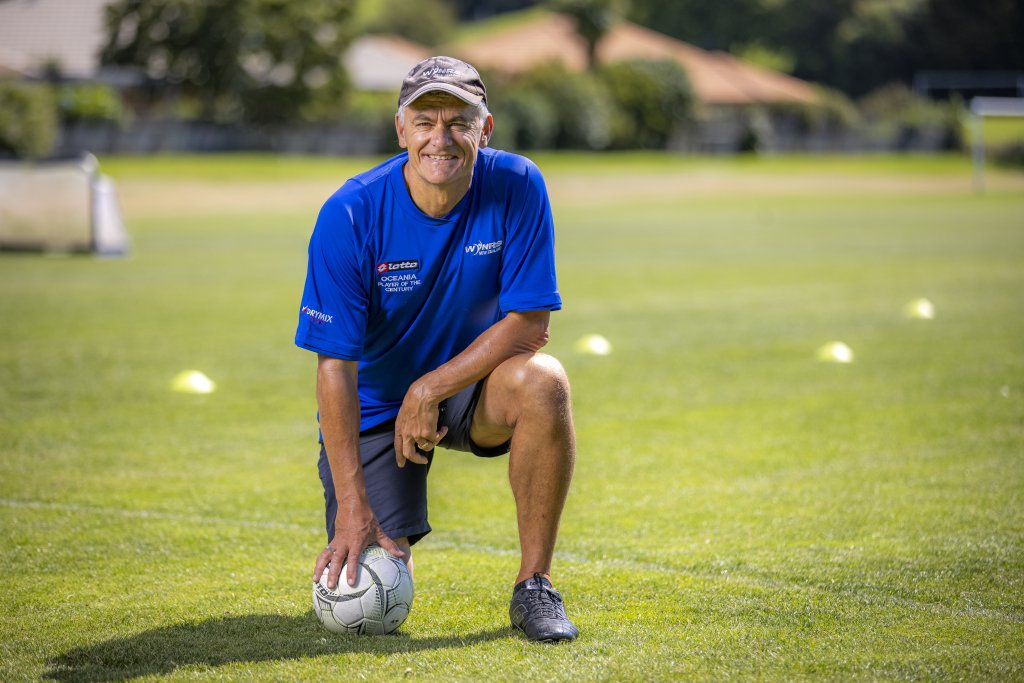 On that note, did you ever get nervous before such big games?
That's a really interesting question because for me, when I think back on some of the big occasions, I didn't feel pressure. For example even during the 1992 European Cup Winners' Cup final against Monaco that I mentioned, I wasn't nervous – just excited. I was like a little kid in the candy shop. I paid for my dad to come to the game. I already told him before the game we were going to lose so he wouldn't give me a hard time afterwards. I was so happy to play in a European Cup final and I just couldn't believe my dream was coming true. There I am playing in one of the biggest games of my life in a massive stadium in front of thousands of people and millions on tv – but yet I was just so excited to get out there on the field and kick the ball around. I was just living the dream.
In my 10 games in the UEFA Champions League, I have the fourth highest goal scoring ratio of all time.
When I look at awards and trophies, or successes I had, I can honestly say I was just following my passion. The achievements are really satisfying and I suppose somehow in the big games I just rose to the occasion.
After Germany, you spent a two-year stint playing in Japan before returning to New Zealand. You then founded your academy Wynton Rufer Soccer School of Excellence – or WYNRS (appropriately pronounced winners) – with help from your brother Shane. Can you tell us a little bit about the academy?
Can I just say, my wife and I loved Japan and we still do – it was also the most money I'd ever made in my career! But in 1997, after Japan, I believe God called me to come back to New Zealand. I've got a lot of former teammates who have big jobs and massive salaries overseas and when I catch up with them they sometimes ask, "what are you doing in New Zealand!?".
But, I believe the Lord has clearly sent me here, so I simply followed His leading. Over the years, football has taken me to more than 90 countries all over the world. I've just been so blessed to have had some amazing experiences. Now I use the talents God has given me to help the next generation. Perhaps I don't get as many chances to overtly share the Gospel with academy players and mention Jesus. But Proverbs 3: 5-6 comes to mind, "Trust in the Lord with all your heart and lean not on your own understanding, in all your ways acknowledge Him and He will guide your path…"
The academy's football philosophy is individual player development. To me that means players need to be able to kick the ball brilliantly with both feet – and juggling is also a big part of my coaching program. What juggling does is it helps you with your first touch, and all the world-class players have an amazing first touch.
Overall, we aim to build world class footballers and community role models in a positive environment that encourages teamwork, commitment and excellence. The depth is slowly growing in New Zealand football and it's really exciting seeing a number of really gifted young players come through.
My nephew Alex Rufer – who is currently at the Wellington Phoenix – was at the Wynrs academy between 2002-2008. Sarpreet Singh was at the academy between 2008-2016 and he's now in Germany, under contract to Bayern Munich. Marco Rojas, who plays for the Melbourne Victory in the A-League in Australia, was at the academy between 2002-2006. And that's just to name a few.
The thing is, with football being such a skilful game and so competitive worldwide, I believe you have to be really good at the basic techniques to succeed at International level. There's probably 150 countries in the world where football is the number one sport.
Both my sons Caleb and Joshua have enjoyed playing the game too – Caleb played professionally for about three years – a stint which, like me, included a spell in Germany – and he's now shifted over into real estate and is doing really well. I'm very proud of both of my sons.
You mention the A-League in Australia, and while you never got to play in that competition per say – you did have involvement in the league that preceded that competition across the Tasman. Can you tell us about your involvement with the game once you came back to New Zealand?
In 1999, I was involved in the start up of New Zealand's first professional football team called the Football Kingz, which was based in Auckland.
It's probably fair to say here in New Zealand we initially had no idea what we were up for in terms of the level of competition across the Tasman, as well as everything else involved with a professional club – but we did okay in those first two years. The Kingz finished in eighth and seventh position in the league in that time. I left at the start of the third year.
Looking back, my time with the Kingz was actually quite special – the team was trailblazing for what is now the Wellington Phoenix. I retired in 2001 at the age of 38.
Finally Wynton, in 2019, you suffered a massive heart attack and it's no exaggeration to say you almost died. You've said that even during that experience you sensed God's hand – can you tell me about it?
There were no warning signs beforehand. A visiting German friend and I had been to a Breakers basketball game downtown Auckland. I remember the team won and after the game we were headed home on some Lime Scooters. We were going up a hill in Parnell at walking pace on the scooters, but the next thing I knew I woke up in hospital. I later found out that one of my three main arteries was 100 percent blocked and a second smaller artery was 65 percent blocked. A passer-by – Nick Moss – performed CPR and literally kept me alive and saved my life. The heart attack was a total shock, because I was fairly fit and not overweight. In hospital I was in a coma for a day-and-a-half. I can say this though, with certainty, that when I did wake up in the hospital I had a sense of total peace. Before it happened I had always believed that I didn't have any fear of dying, and in that moment, when I first woke up, that got confirmed to me. I knew I was very lucky to be alive for sure, and very grateful to Nick and the medical staff. Everyone around me was freaking out and in shock, but I just had a total peace about everything. I attribute that to my faith in Jesus. I simply knew that whatever happened I would be with Him.
What a testimony! Thanks Wynton. Let's pray for Wynton and the WYNRS team, that they would seek the Lord's leading and guiding as they continue to work with some of New Zealand's top up and coming football talent.
For more information on the Wynton Rufer Soccer School of Excellence, see www.wynrs.co.nz. Wynton also has an online coaching program called The Success Path. If you are interested in finding out more, email wynton@wynrs.co.nz.
Jeremy Smith is the assistant editor of Authentic Magazine
Want more articles like this?
Read More Interesting articles
Papamoa's Logan Mills will always remember the way his youth pastor phrased a question he once asked the group. "If…
Read More...