More than 20 years after Paul Adams first retired from motorsport, he felt the Lord leading him to get back behind the wheel. Prayerfully, Paul said he would – but only to be a light for Jesus, and if the Lord provided certain things. One of those was a Mazda Familia 323 four-wheel-drive turbo.
When he bought one from someone who drove into his car yard – Paul Adams Motors – one day, he promptly put the number plate 'Psalm 1' on the car. It was a great conversation starter.
"Someone once said to me, "I've worked out your number plate! You got 'Psalm 1' because it means "Paul and Sue Adams Love Motorsport!"
An interesting interpretation – yet still a true statement. As one of the country's first professional drivers, Paul's been called one of the "true forefathers" of New Zealand rallying.
He says he just loves putting the pedal to the metal. His stellar career of more than 30 years is filled with highlights and milestones across several different motorsport disciplines – hillclimbs and trials to circuit racing and rallying.
First introduced to motorsport in the mid-1960s, he drove a variety of cars throughout his career – including a few BMW 2002 Ti, a Mk 1 Ford Cortina, a Ford Escort RS1600 and 1800, a Vauxhall Chevette 2300 HSR, and a Toyota Corolla and Starlet.
He won several major highlight reel-type accolades along the road.
He and co-driver Don Fenwick won the 1970 Silver Fern Rally in the South Island. Paul also won the 1979 New Zealand Rally Championship (NZRC) and was one of the first New Zealand drivers to compete in an overseas international rally when he raced his Ford Escort Mk1 in the Southern Cross Rally in Australia.
Last year, Paul was given a MotorSport New Zealand Historic Heritage award.
He's honest and candid as we chat, saying before becoming a Christian in his mid 30s, he often found his sense of identity and worth in whatever 'success' he achieved in racing.
Now though, "…the old has gone, the new is here…" – 2 Corinthinans 5:17 (NIV). He simply wants to use the gifts God's given him to point people to Jesus.
Paul, in his 70s, is still involved in the sport he's had a life-long passion for. We caught up to talk about family and faith, being a politician for a time, and of course, his love – and special memories of – all things racing.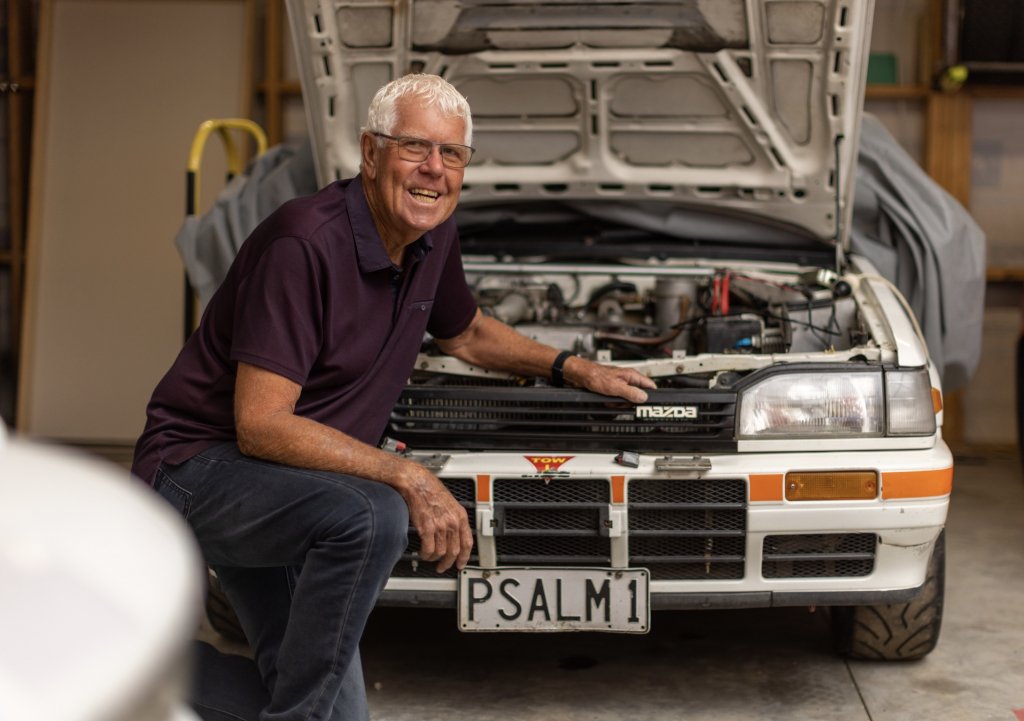 It's great to chat, Paul! To start with, what sparked your love of motorsport?
I was useless at school, really, it didn't excite me. Before racing, I was an apprentice carpenter and joiner. In about 1965 or 1966, my cousin John invited me to my very first hill climb event. I didn't even know what a hillclimb was – competing against the clock to complete an uphill course. I'd never followed motorsport. Not only was it my first ever event, but it was being held on the Cossey family farm and run by the Auckland-based Northern Sports Car Club (NSCC) – the first time they'd held the event there.
John just said, "bring a crash helmet and a car." We used a Morris 1100 which was a company car belonging to one of my dad's salespeople. As soon as I had my foot down, I knew motorsport was for me. We won our competition class that day and from there, I did some club circuit racing. Our first real taste of rallying came when we entered New Zealand's first true high speed special stage rally in 1969, the Shell Silver Fern Rally, in a Mk 1 Ford Cortina.
I knew my conservative dad wouldn't like motorsport. I competed for several years – maybe four or five – before my parents found out what I was up to. In the days when Mustangs were racing at Pukekohe Park and amazing guys like Paul Fahey and others made up the field, I eventually got busted. One day there was a photo on the front page of the newspaper and it just so happened I was in the background because in the picture some of the Mustangs were busy lapping my Ford Cortina!

You weren't a Christian when you started out in motorsport, you came to Christ a bit later in life. How did you come to know Jesus?
I didn't grow up in a Christian home, but in my younger days many families would send their kids to Sunday School. I was no exception. Maybe to get some rest on Sunday mornings, my parents sent me to Northcote Baptist Church. I grew up knowing the basics of the Gospel. In my early teenage years, I started going to some Friday night social nights held at Takapuna's St George's Presbyterian Church. I even remember asking once what you needed to do to become a minister. Reflecting now though, back then I don't recall anyone ever asking me if I wanted to give my life to Christ. So, I suppose in those early days, I sort of fell away.

What was the catalyst for you beginning a personal relationship with Jesus then?
Great question. There are several aspects to the answer. My wife, Sue, is former New Zealand saloon car champion Alan Woolf's daughter. Sue and I first met at the track – I asked Alan one day if I could take her to the pub after the meet. "…you can ask, but I doubt she'll go," he replied. Sue was a young Christian herself when we began dating – I wasn't a believer for many years after we got married. Honestly, I think I came into the Kingdom largely because of her prayers for me. I became a professional racing driver pretty early on in our marriage and Sue was always extremely supportive. I absolutely remember times when God was working in my life to draw me to Him. At the time, I knew something was going on but I didn't necessarily know it was God. One night, as Sue was praying for me, she felt the Lord confirm to her that His hand was upon me and He was at work. I didn't come to God straight away after that though – in fact, for about two years, I probably got worse.
To my mind, several key things happened which shook me and got me thinking about Jesus. For example, one day my co-driver and I were competing in a rally in Tokoroa as part of the New Zealand Championship in our Toyota Corolla. During one particular stage on tarmac – one on which you would have thought there was no way anything could go wrong – we came up over the brow of a hill about 500 metres from the finish line. The next second, at more than 160km/h, the back wheels of the car went off the tarmac onto the grass. We slid sideways, smashing into a letterbox on a solid concrete post. It virtually cut the car in half. Witnesses told us if we'd hit the pole differently, even by millimetres, they thought we wouldn't have survived. That definitely got me thinking about the Lord.
Something else too absolutely shook our whole family. Early on in my racing career, my brother-in-law John and I were teammates in the Nylex Vinyltop team. In 1980, John and his co-driver Grant Whittaker went to the United States to race. The following year, 1981, John and Grant were tragically killed in an accident at Oklahoma's Chisum Trail Rally.
Driving a Peugeot 504, John and Grant were the first car in the rally field on the track. The stage was delayed, and many competitors thought it was actually cancelled. As John and Grant started, a 4WD vehicle with some spectators in it entered the live stage, heading in the opposite direction of the rally cars. The two vehicles collided on the blind brow of a hill. Both John and Grant were killed instantly.
I was competing in the New Zealand Championship and I remember driving to Taupo to tell Sue John had been killed. I had an event the very next weekend too, and I told my father-in-law Alan I couldn't do it. "…son, you've got to," he said.
So, I did. We were in the Tokoroa area again and I was the first car on the road.
I was nervous as I went around every corner and over every hill. Up to that point, I'd never encountered any other non-competing vehicles on the track while I was racing. On this day, just as I was settling down, I went over the brow of a hill and two hunters in a 4WD were coming straight towards us. I missed them by millimetres! When God starts to shake you up, He has his ways. I knew He wanted my attention!
Sue kept her Bible beside our bed, so I began reading it. As I read in John, I knew I needed to give my life to Christ. We started going to church and I was in my 30s when I surrendered my life to Jesus. I've walked with Him for more than 40 years and Sue and I have four children – Maria, Karl, Sharee and Matt.
How would you encourage readers then, whether they're walking with the Lord or He is drawing them to Himself?
Put simply, it's probably best said by Proverbs 3:5, "Trust in the Lord with all your heart and lean not on your own understanding;" (NIV). That's true whatever season we're in – and perhaps even more necessary given the times we're living in. One of my biggest realisations was that we all serve something or somebody. In my case, before I came to Jesus, my god was motorsport – I found my confidence and my joy in it. Ultimately though, everything we need is found in Him. Faith in Christ has always been imperative, but we are living in times – and facing situations – in which we absolutely need to lean on God's wisdom, not our own strength or understanding.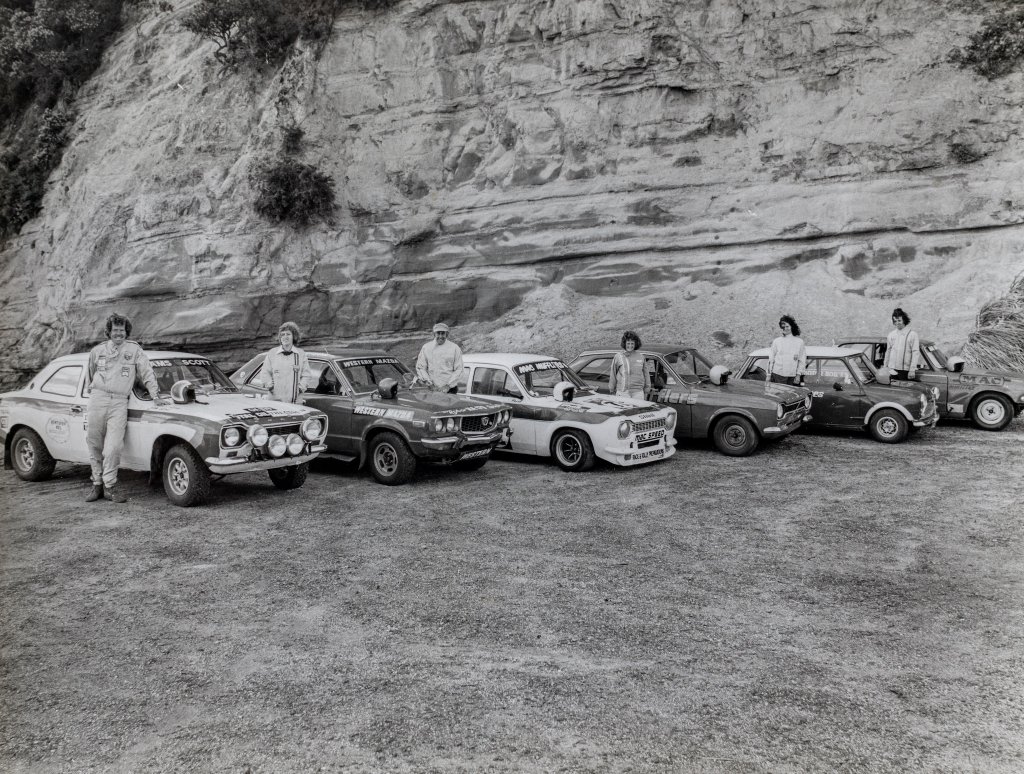 When we talk about your motorsport career highlights, what are a few special moments you remember?
A really special memory is when myself and my co-driver Don Fenwick won the 1970 Shell Silver Fern Rally facilitated by the Canterbury Car Club in the South Island. A cool side note is we won that event in a BMW 2002 Ti, which I bought back many years ago. I still use it every now and again at events like the Leadfoot Festival. I initially bought it from Ross Jensen Motors – the country's first BMW franchise – when the BMW brand was new in New Zealand. Ross was a former motor racing man, but there wasn't anything particularly skilled or premeditated about that purchase, it was just available. When we entered the rally the previous year, 1969, we didn't really know what it was going to be like – we were all learning our way together. Another highlight was when we won the 1979 New Zealand Rally Championship (NZRC) driving a Ford Escort RS1800. In the 1980s, my team and I actually won three separate New Zealand championships across rallying, rallycross and hillclimbs.

We can't go past you and some other Kiwi drivers blazing a trail of sorts and competing in Australia too…
Well, a group of us were some of the first New Zealand drivers to compete in an overseas international rally – the Southern Cross Rally in Australia. I took a Mark 1 Ford Escort. We probably competed there two or three times overall – unsuccessfully, I must say! It was awesome. The racing conditions were totally different. We once blew a head gasket on what I thought was a dangerous corner. I walked up the bank, sat on the grass and said to my Australian co-driver, "…come here, the other cars will get pretty close around that corner."
He just looked at me and said,"…there are no snakes in the car…" I was out of that grass like a rocket!
You competed in both circuit racing and rallying. How did racing in those disciplines differ?
The two environments require very different skill sets. Circuit racing requires skills like racing lines, how you take the corners, your braking consistency and so on. I really enjoyed that. Rallying was a thrill and a rush! I definitely found it an exciting challenge. In those days we'd drive roads blind that we'd never driven before. That in itself was challenging. You had to pre-meditate every situation you could possibly find yourself in, so that if you did, you reacted to something you'd already thought through. The variety of surfaces, tarmac, grass, mud and metal meant you were continually changing and adapting. When you're flying down a metal road at 200km/h you certainly have to have your wits about you!

Has Sue ever been brave enough to co-drive with you?
Yes, she's driven with me in several events. She's a very good driver in her own right. Many years ago, driving in her Mini Cooper S, she was one of the first women in New Zealand to win a championship series. She also has done rallys with her sister as her co-driver.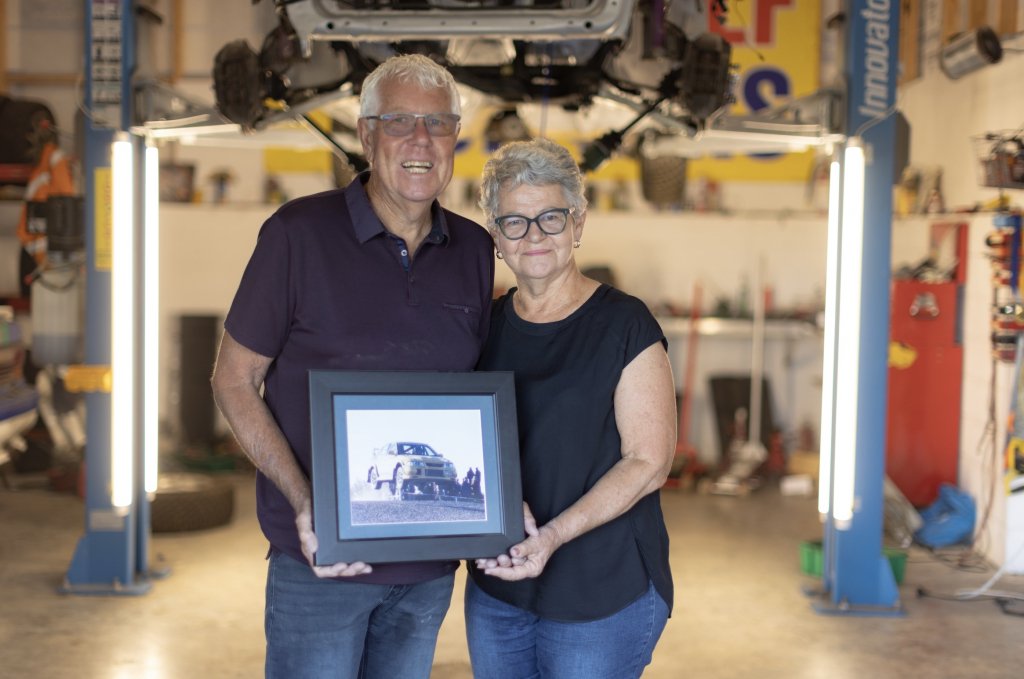 About two decades after you retired from racing, you felt the Lord drawing you back to motorsport. What was it like going back?
In the early days of becoming a Christian, I was really passionate about sharing my faith with all of my teammates and service crew – but not many were interested in hearing about the Lord. Just before I retired, I certainly felt that the Lord's favour was on me. In the last season I ran, I think we won something like 43 of the 46 events we did. One weekend at Pukekohe, I had a great team around me and Chris Amon, a former Formula One driver, was helping me set the car up. It was going faster than ever by about one-and-a-half or two seconds per lap. I didn't know it at the time, but that was to be my last race as a professional motorsport driver. God simply shut the door. It wasn't until more than 20 years later that I finally got back into a racecar again. God was helping me work through a lot of issues in that time, and I returned because I felt He wanted me to go and be a light for Him.

I love that you've alluded to being a light for Jesus. How would you encourage readers to do the same wherever God has placed them?
The key is that we understand that God loves everybody. He accepts us and wants us to accept them too. As Christians, we've got to be real. I look for opportunities to pray for people as often as I can. Many years ago, I owned a car yard – Paul Adams Motors – and I would often pray for customers. We all know a lot of people in our world who are really hurting at the moment and there's lots they don't understand. They need Him. As Jesus told us, it really is like fishing – putting the 'bait' out as we are led by Him. Often I find one of the best ways to evangelise is to ask questions.

Your son Matt has followed your footsteps, or tyre tracks, into Motorsport. What's that like as a dad
My son Karl is involved too – both of them are very talented drivers. Far better than I was. It amazes me how the generational bloodline – even on the sports front – does flow down. Matt's a third generation driver now. As I said, his grandfather was a New Zealand saloon car champion, I was a New Zealand champion and now it's his turn. I don't get nervous watching, but I accept there will be times when there may be accidents. Matt did actually have a huge crash last year, basically writing his car off. He was uninjured but his co-driver was taken to hospital. It was a terrible moment. Some of that risk is inherent in the sport, but that doesn't stop us as a family from supporting them all the way – I know what it is to love a sport like that. Matt's currently running a Mitsubishi Lancer Evolution IX.

Here's a big one. What's your favourite car you've had over the years, and a favourite place you raced?
It's been an amazing journey and I've had lots. Of course, there's the BMW 2002 Ti, and my Mk 1 Ford Cortina was a key car. In 1980 – the year after we'd won the New Zealand Rally Championship – I made the transition into racing a Toyota Starlet. I'd actually built a brand new Escort to race in that season and we won the first round outright. But our major sponsor had a change of marketing manager, who then pulled our sponsorship. I decided I didn't have the money to then do the Escort justice, so I sold it and built a Toyota Starlet. The amazing team around me built that car in 15 days! The headline in the paper after the first stage we raced in it was 'The Giant Killer'. That was a special car – it started three or four wonderful years with Toyota. Actually, I've co-driven "New Zealand's magic Motu Road" near Ōpōtiki with Matt before and even when I drove it when I was competing it was probably my favourite. It's an incredibly challenging stretch.

Early in my racing career, my brother in law, John and I put a package to General Motors in the hopes that they would bring two Chevettes out for he and I to run. While that didn't eventuate, Pentti Airikkala, a driver from Finland, came out to the international rally here in New Zealand in a left-hand-drive Vauxhall Chevette 2300 HSR. Steve Millen then put together a deal with General Motors for him to be able to run that car. Unfortunately, Steve had a really serious accident while he was circuit racing at Pukekohe. So, because General Motors representatives knew I competed in rallying, they asked me if I would drive the car while Steve recovered. I took to the Chevette like a duck to water! Honestly, that Chevette was one of my favourite cars too. They're probably all favourites – any car that wins is a favourite!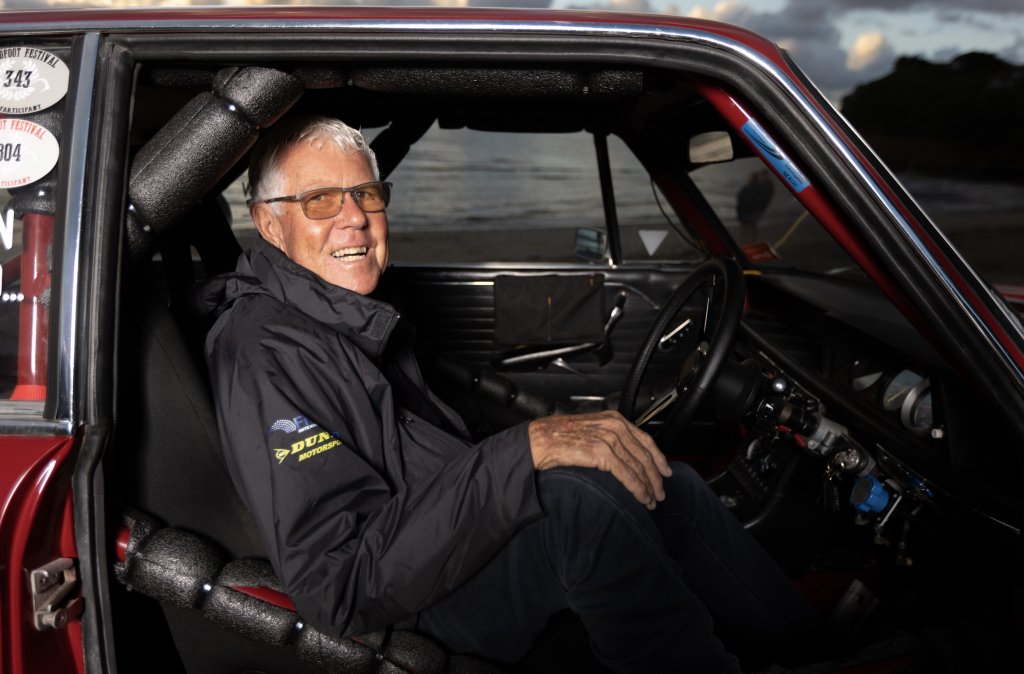 Does your perfect day out to relax and recharge still involve cars?
I still love driving and heading to a day at the track. Mostly though, I tow Matt's car to events for him. I've co-driven for him a few times and I'll always go and spectate and support him – because people did that for me. My father-in-law Alan gave up motorsport to help me after he won the saloon car championship. At the time, I probably didn't appreciate that enough – but he made a huge commitment to give up what he loved for me.

Why did you go into politics, and what was it like being a Christian in that sphere?
It was an incredible experience. At that time, I was in business running a car yard – Paul Adams Motors. We were a Suzuki agent and we'd just taken on a Kia dealership. I had never been to the Beehive before, even as a visitor. Then, all of a sudden I was ninth on the United Future list and in parliament from 2002-2005. What I loved, in terms of what United Future stood for, was strong family values and proposing the Commission for the Family. Those core values tick my box, so I got stuck in. Some big legislation was on the table at the time, including the anti-smacking law. It was a wonderful experience though and I had many great conversations with people about the Lord.

Finally, we spoke of Sue's prayers for you before you came to Jesus. What's the importance of having Godly influences around us?
God's Word tells us, "As iron sharpens iron, so one person sharpens another." – Proverbs 27:17 (NIV). It's incredibly important. For me, my family has always been the top priority – we're very close. And I've got fantastic inlaws. Honestly, at times bringing up our children in the ways of the Lord wasn't easy, but I'm reminded of the scripture, "…train up a child in the way he should go, And when he is old he will not depart from it." – Proverbs 22:6 (NIV). These days, all of my children love and serve the Lord and, like me, two of them are Pastors. All 14 of my grandchildren are walking with the Lord. God is good. My encouragement is this – honour the Lord in all your ways. I've found that when you do you walk in His blessings. It's not that we won't have tough times, but we know where our Anchor and our Rock is – Jesus Christ. His word is non-negotiable and eternal.
Thanks so much Paul! Great chat!
Jeremy Smith is editor of, and one of the writers for, Authentic Magazine.
Want more articles like this?
Read More Interesting articles
The All Blacks are at the centre of New Zealand culture. Along with the silver fern, the Kiwi bird (and…
Read More...